The most common soft tissue mass in the foot and ankle is the Ganglion Cyst. When conservative options no longer work, surgical excision of the ganglion can be performed.
While the recurrence rate associated with surgery is much lower than that experienced with aspiration and injection therapy, there are nevertheless cases in which the ganglion cyst returns.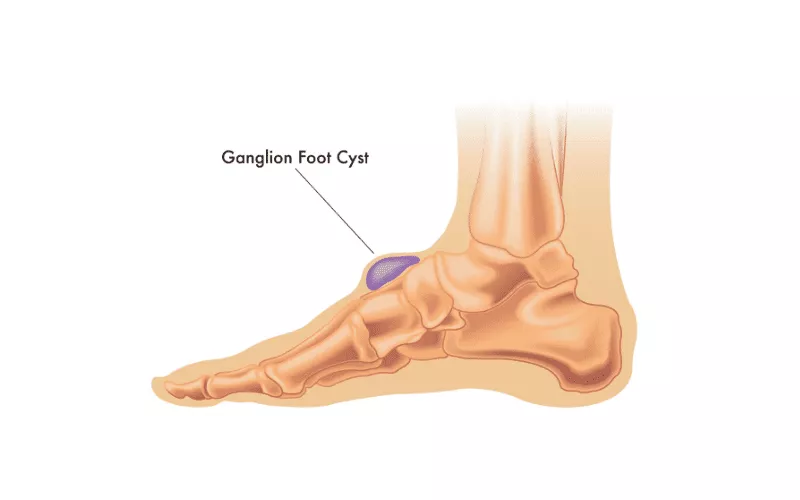 A ganglion cyst is a fluid-filled noncancerous lump that usually develops in the wrist or hand. But some occur in the ankles or feet. When a ganglion cyst presses on a nerve it can be painful. And depending on its location, a ganglion cyst may restrict movement.
Some cysts do not need treatment, but others must be surgically removed. During a ganglion cyst removal, a doctor removes the cyst capsule or stalk to completely remove the cyst. Even with surgery, a ganglion cyst may reoccur.
Excision of Soft Tissue Masses
During this outpatient procedure, the physician removes a mass that has formed beneath the skin of the foot. This animation will show the removal of the most common type of soft tissue mass (a ganglion cyst). A ganglion cyst is a fluid-filled sac that is connected to a joint capsule or tendon sheath. Ganglion cysts commonly form near the ankle. As a general rule, Soft Tissue Mass procedures are performed on an out-patient basis in an Alberta Health Services (AHS) approved Surgical Center or in a Hospital. Surgical procedural costs are covered by AHS or the patient may opt for private surgery to avoid a waiting time.  A visit to Feldman & Leavitt Foot And Ankle Specialists will CLEARLY define all available patient options.
Frequently Asked Questions