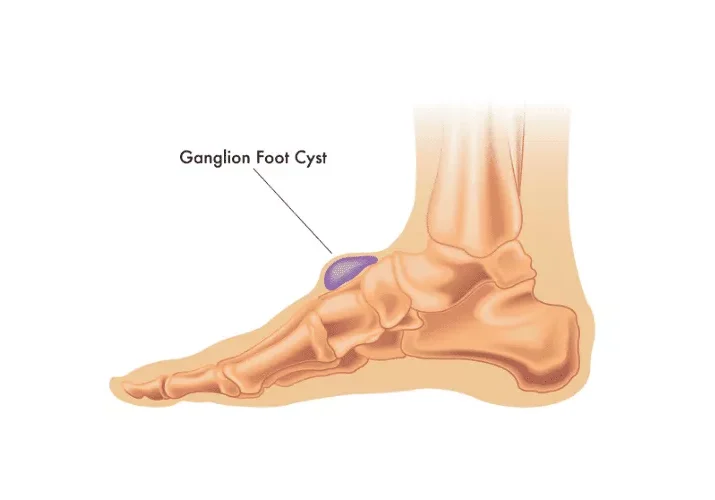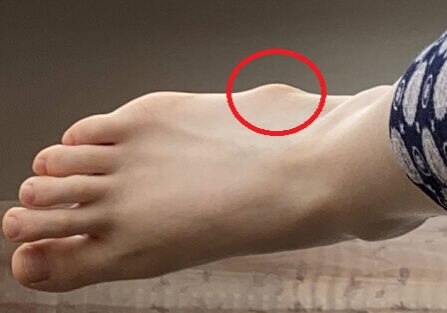 First treatment of most patients are conservatively through non-invasive techniques and treatment options. If the problems still persist, more invasive options can be discussed along with possible surgical options.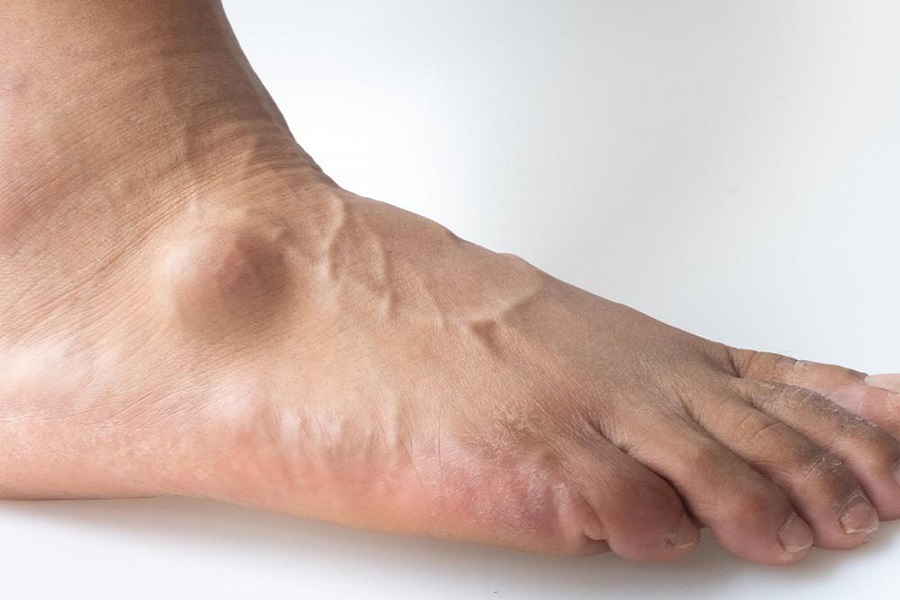 What is Ganglion Cyst Surgery
Ganglion Cyst Surgery is to remove a ganglion that has caused pain, numbness, or difficulty performing daily activities. A ganglion is a small sac or cyst filled with a clear, jelly-like fluid. A cyst on your foot may resemble a bump. A ganglion can appear on the feet, ankles, knees, or shoulders less frequently. As a general rule, Ganglion Cyst Surgery procedures are performed on an out-patient basis in an Alberta Health Services (AHS) approved Surgical Center or in a Hospital. Surgical procedural costs are covered by AHS or the patient may opt for private surgery to avoid a waiting time. A visit to Feldman & Leavitt Foot And Ankle Specialists will CLEARLY define all available patient options.
The lumps associated with ganglion cysts can be characterized by:
Location. Ganglion cysts most commonly develop along the tendons or joints of your wrists or hands. The next most common locations are the ankles and feet. These cysts can occur near other joints as well.
Shape and size. Ganglion cysts are round or oval and usually measure less than an inch (2.5 centimeters) in diameter. Some are so small that they can't be felt. The size of a cyst can fluctuate, often getting larger when you use that joint for repetitive motions.
Pain. Ganglion cysts usually are painless. But if a cyst presses on a nerve — even if the cyst is too small to form a noticeable lump — it can cause pain, tingling, numbness or muscle weakness.
If you are experiencing any of the above symptoms, you should visit our Top Rated Podiatrists for Ganglion Cyst Surgery in Panorama Hills, Calgary, Alberta at Feldman and Leavitt Foot and Ankle Specialist to see if Ganglion Cyst surgery is right for you.
No one knows exactly what causes a ganglion cyst to develop. It grows out of a joint or the lining of a tendon, looking like a tiny water balloon on a stalk, and seems to occur when the tissue that surrounds a joint or a tendon bulges out of place. Inside the cyst is a thick lubricating fluid similar to that found in joints or around tendons.
Factors that may increase your risk of ganglion cysts include:
Your sex and age. Ganglion cysts can develop in anyone, but they most commonly occur in women between the ages of 20 and 40.
Osteoarthritis. People who have wear-and-tear arthritis in the finger joints closest to their fingernails are at higher risk of developing ganglion cysts near those joints.
Joint or tendon injury. Joints or tendons that have been injured in the past are more likely to develop ganglion cysts.
Surgical Treatment For Ganglion Cyst Surgery
Ganglion cysts are often painless, requiring no treatment. Your doctor may suggest a watch-and-wait approach. If the cyst is causing pain or interfering with joint movement, your doctor may recommend:
Immobilization. Because activity can cause the ganglion cyst to get larger, it may help to temporarily immobilize the area with a brace or splint. As the cyst shrinks, it may release the pressure on your nerves, relieving pain. Avoid long-term use of a brace or splint, which can cause the nearby muscles to weaken.
Aspiration. In this procedure, your doctor uses a needle to drain the fluid from the cyst. The cyst may recur.
Surgery. This may be an option if other approaches haven't worked. During this procedure, the doctor removes the cyst and the stalk that attaches it to the joint or tendon. Rarely, the surgery can injure the surrounding nerves, blood vessels or tendons. And the cyst can recur, even after surgery.
Surgery is only an option if all other Ganglion Cyst treatments have been unsuccessful. Schedule an Appointment now at Feldman & Leavitt Foot and Ankle Specialists, surgery may be right for you to avoid the condition worsening and causing long-term damage.