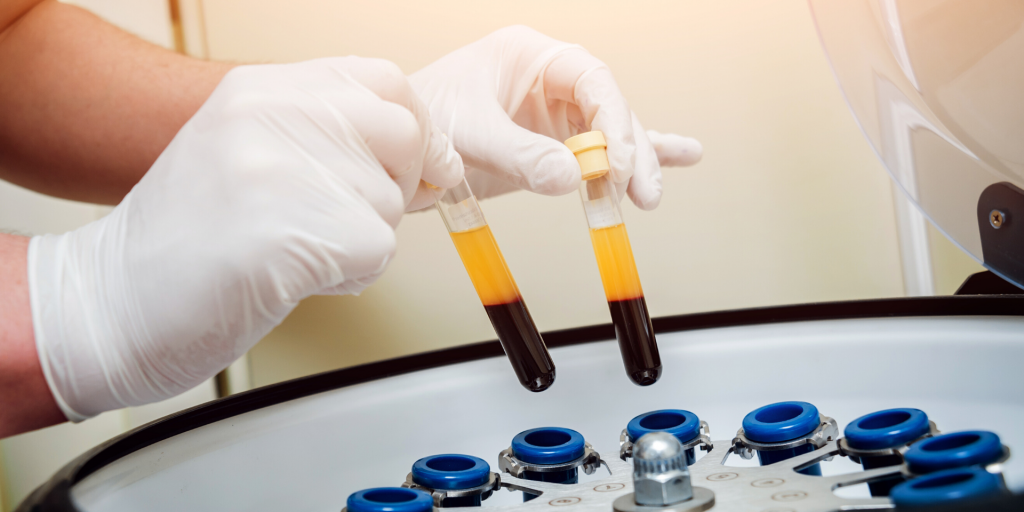 First treatment of most patients are conservatively through non-invasive techniques and treatment options. If the problems still persist, more invasive options can be discussed along with possible surgical options.
What is Platelet Rich Plasma Therapy
Doctors may use platelet-rich plasma (PRP) on injuries or damage to tendons, ligaments, muscles, joints, and skin. To collect plasma, a doctor draws blood from your body and uses a machine to separate the platelet-rich plasma from the rest of the blood. Then the doctor numbs the area of your body being treated with PRP injections. Once you're numb, the doctor uses a needle to inject your plasma into the area of your body being treated.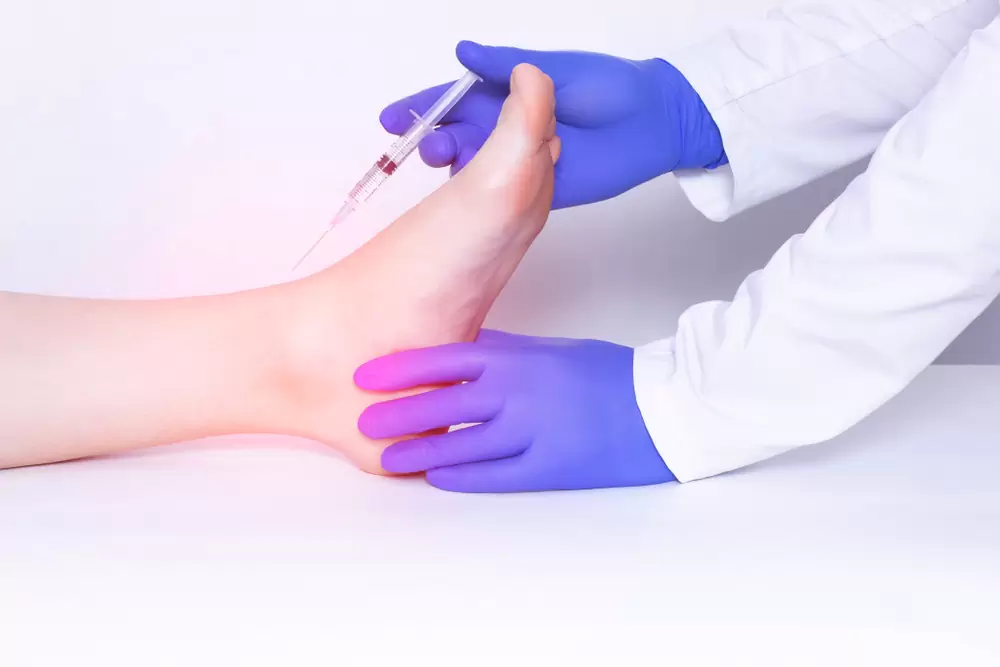 How does Platelet Rich Plasma Therapy (PRP) work?
Platelet Rich Plasma Therapy gives a biological "boost" to the healing process. 
Platelet rich plasma therapy uses components of a patient's own blood to speed up healing and recovery. During the non-surgical procedure, a small amount of blood is extracted from the patient and is then separated using a centrifuge to extract the platelet rich plasma. The PRP is then re-introduced into the patient through an injection precisely in the area of injury, to assist with the regeneration and growth of healthy soft tissue.
As a general rule, Platelet Rich Plasma Therapy procedures are performed on an out-patient basis in an Alberta Health Services (AHS) approved Surgical Center or in a Hospital. Surgical procedural costs are covered by AHS or the patient may opt for private surgery to avoid a waiting time. A visit to Feldman & Leavitt Foot And Ankle Specialists will CLEARLY define all available patient options.
The main goals of PRP therapy include:
Utilizing the body's natural ability to heal itself
Improving the body's function
Alleviating pain
Common Foot and Ankle Conditions Treated by PRP Therapy:
There are many ways that your foot or ankle can become injured, leading to reduced functionality while undergoing recovery. Tendons, ligaments, and other soft tissue can become overworked, sprained, strained, or damaged from severe impacts. Soft tissues are cells that connect, support, and move other surrounding tissues of the body. There are many types of soft tissue, including fat, muscle, tendons, fibrous tissues, blood and lymph vessels, and nerves. Research has shown that PRP is effective in treating soft tissue injuries.
Below are some of the most common foot and ankle conditions, all of which may be treated with PRP therapy.
Tendon Tears
Plantar Fasciitis
Ankle Sprains
If you are experiencing any of the above, you should visit our Top Rated Podiatrists for Platelet Rich Plasma in Chestermere, Calgary, Alberta at Feldman and Leavitt Foot and Ankle Specialist to see if Platelet Rich Plasma Therapy is right for you.
Is Platelet Rich Plasma Therapy Safe?
Because PRP therapy is using a patient's own blood, it is considered a safe procedure. In most cases, patients experience no adverse reactions to the injections. The procedure is very quick and you can go home immediately following the injection. PRP therapy can also be used to treat conditions in other areas of the body such as chronic back pain, whiplash, chronic knee pain, hip arthritis, knee arthritis, and shoulder pain. If you have experienced an injury or suffer from chronic pain and are looking for an alternative to surgery or surgery has failed to provide relief, PRP therapy might be right for you.
With our Top Rated Podiatrists at Feldman & Leavitt Foot and Ankle Specialists, are well versed in joint pain management and offer a variety of surgical and non-surgical treatment options in addition to PRP therapy. If you need additional guidance on managing joint pain, we can help. Schedule an Appointment now to discuss your available care options or to make an appointment with one of our board certified and top rated podiatrists.